"He puts the safety and security of Washoe County families first, this is what we need in a sheriff and I proudly support Darin Balaam for Washoe County."
– Mike Haley, Former Sheriff, Washoe County
PROVEN AND UNIQUELY QUALIFIED
Raised in a respected law enforcement family–his father, Dennis Balaam, served as Washoe County Sheriff from 2000 to 2007. Darin has distinguished himself as a selfless public servant who delivers results that have improved our public safety. Darin has a Bachelor's Degree in Criminal Justice from the University of Nevada and a Master's Degree in Criminal Justice Administration from the University of Louisville. During former Assistant Sheriff Darin Balaam's over 20-year career, he has led the following:
Special Weapons & Tactics Team (SWAT)
Detention Response Team (DRT)
Hostage Negotiation Team
Regional Bomb Squad
Search & Rescue
K9 Unit
Detectives Unit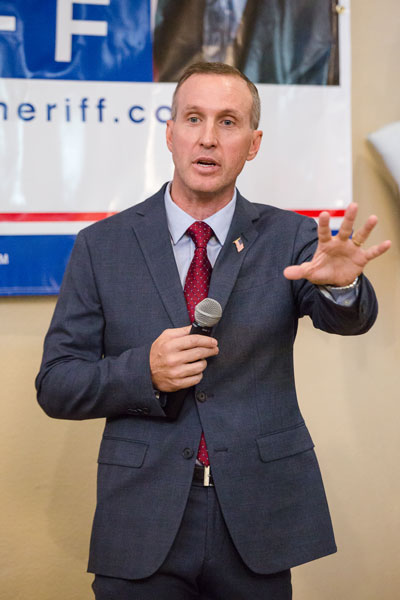 You may recognize Darin's name because his father, Dennis Balaam, served as Sheriff of Washoe County from 2000-2007.  It was a great honor and privilege to watch his dad lead, and that's one of the reasons why he's continuing that tradition, and running for Washoe County Sheriff.
Darin plans to meet with people in the community and listen to their needs throughout his campaign.  At the end of the day, he wants to make a difference and make this community safe for all families.
Before running for Washoe County Sheriff, Darin dedicated himself to protecting and serving his community.  Prior to his retirement, Balaam held many positions with the Washoe County Sheriff's Office from Property Clerk all the way to an Assistant Sheriff over the Operations Bureau.  
Darin is a fifth generation Nevadan and a Sparks native, where he currently resides with his four children and wife of over twenty years.  He and his wife Heather met at the Washoe County Sheriff's Office where they began their careers as Deputy Sheriffs.  They both come from a strong line of police officers; their fathers retired from the Sheriff's Office with over 30 plus years of experience. Both parents instilled in them at an early age the importance of having a safe community and always treating others the way you would like to be treated. They say it takes a village to raise children, but it takes each one of us to prosper a great community.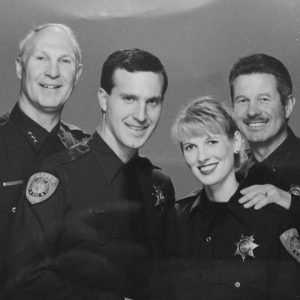 STRATEGIES FOR THE ISSUES THAT MATTER MOST TO YOU
Washoe County's future depends on how well we address our most critical challenges. As Sheriff, Darin will work with key community partners to implement a strategic, four-pillar platform that will empower the greater good through efficiency, compassion, and strength.
ENHANCED COORDINATION OF MENTAL HEALTH RESOURCES
In 2017, the Washoe County Detention Facility housed an average of 1,087 inmates. A significant number of them were in need of mental health services. Effective mental health treatment reduces repeat offenses, improves lives and saves money.
Darin's top priorities on the day he takes office are going to be:
Expand Medical Assessment Programs to ensure inmate needs are accurately identified.
Identify best outside resources & coordinate for treatment logistics.
Create a transport system for "soft hand-offs" upon inmate release.
Divert those suffering from mental illness into proven specialty-court programs.
STEPPING IN FRONT OF DOMESTIC VIOLENCE
In 2016, 2,030 juveniles witnessed domestic violence in Washoe County.  Research has shown juveniles that witness domestic violence are three times more likely to repeat this violence themselves in adulthood. Domestic violence calls generally account for up to 50% of all calls for law-enforcement services.
Darin will take bold, informed action to curtail domestic violence and will focus on the following points.
Evidence-based programs that hold offenders accountable for their actions.
Partnerships with government agencies, the legal system and community services to implementdomestic violence prevention strategies.
Expand regional victim advocacy programs.
SAFE GUARDING SENIOR CITIZENS
In today's technology-fueled world, our seniors are often overlooked and left vulnerable to complex scams, and dangers that exist in our society. Darin will focus on protecting seniors, doing more to educate and protect them from the predators.
Make seniors a priority by rooting out

cybercrime

.

Educational programs to help seniors avoid abuse and victimization.

Region-wide senior safety initiatives that connect seniors to a safety net of services.
COMMUNITY INTEGRATION
Washoe County has quickly gained national attention as one of the most sought-after destinations for small businesses, as well as international corporations. We need to be prepared for Washoe County's continuing population growth. Darin is committed to implementing community-oriented policing strategies to help those who need it most.
Develop

a

strong

partnership

with faith-based communities

and non-governmental organizations to identify best practices in addressing community issues.

Integrate law enforcement

and citizen efforts in problem solving, centered on identifying eff

ective strategies to address

the causes of crime and disorder.

Expanding educational programs for at-risk youth

.
Marsha Berkbigler
Washoe County Commissioner
Bob Lucey
Washoe County Commissioner
Vaughn Hartung
Washoe County Commissioner
Geno Martini
Sparks Mayor
Ron Smith
Sparks City Council Member
Neoma Jardon
Reno City Council Member
David Bobzien
Reno City Council Member
Teresa Benitez-Thompson
Assemblywoman
Jill Tolles
Assemblywoman
Skip Daly
Assemblyman
Bob Cashell
Former Reno Mayor
Dick Gammick
Retired WC District Attorney
Mike Haley
Retired WCSO Sheriff
Steve Pitts
Retired RPD Chief of Police
Jim Weston
Retired RPD Chief Deputy
Dan Coppa
Retired WCSO Undersheriff
Anthony Miranda
Retired WCSO Chief Deputy
Rod Williams
Retired WCSO Chief Deputy
Lee Bergevin
Retired WCSO Chief Deputy
Ray Wright
Retired WCSO Chief Deputy
Steve Asher
Retired SPD Chief of Police
Dennis Osborne
Retired Colonel NHP
Brian Sanchez
Retired Lt. Colonel NHP
Mike Whan
Retired RPD Deputy Chief
Tom Robinson
Retired RPD Chief Deputy
Jon Catalano
Retired Deputy Chief RPD
Lee Leighton
Retired SFD Chief
Tim Leighton
Retired TMFPD
Andy Flock
Retired SFD Chief
Chris Perry
Retired Director of Nevada Department of Public Safety
Cherie Williams
Chief Executive Officer Reno/Sparks Association of Realtors
Associated General Contractors
Laborer's International Union of North America Local 169 Pac Non-Interest
Operating Engineer's Local Union Number 3
Plumbers and Pipe fitters Local 350
AFL-CIO
Please make checks payable to Friends of Darin Balaam and mail to:
5245 VISTA BLVD, STE F3-117
SPARKS, NV 89436
775-544-1668
Or, contribute with Pay Pal.